Free Daisy Stitch Bootees/Booties Pattern. Super cute and versatile baby booties to make that will look great on both baby girls and baby boys! Adorn with the cute and simple crochet bow, you can also add crochet flowers or crochet butterflies for embellishment, the varieties of adornments, embellishments and yarn choices will help you to create many unique looking baby booties with this one pattern. The pattern is in US and UK terminology for all English readers!
Size: The bootee and slipper both measure 10cm (4″) along the sole and 4cm (1.5″) across the sole. The bootee is 5.5cm (2.25″) tall to the top of the cuff and the slipper is 4cm (1.5″) tall – approximately. That should fit a baby around 3 to 6 months old.
Skill Level: Intermediate
"This little bootee is made with the old-fashioned Daisy Stitch. It is not at all lacy so is just as suitable for little boys as little girls.
The instep makes an ideal 'canvas' for little cross stitch designs, or any other sort of embroidery you might like to add to personalise them. I particularly like bullion roses.
If you want to make these in advance but you don't know whether the baby will be a boy or girl why not make them in white and then do the tie and trims in another colour once baby arrives? Remember you can put a trim around the sole too."
These lovely daisy stitch crochet baby booties look great in Traditional pastel baby colors like the pastel yellow and also the white, pink, yellow and blue self striping yarn.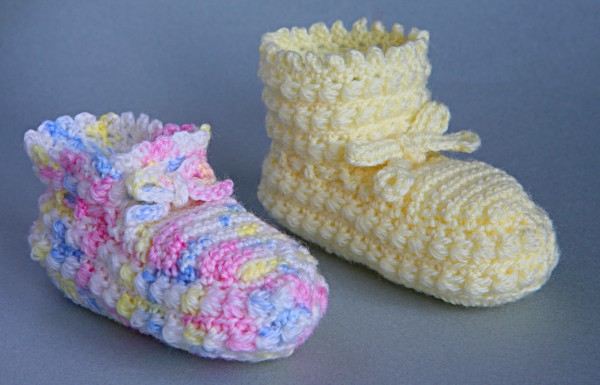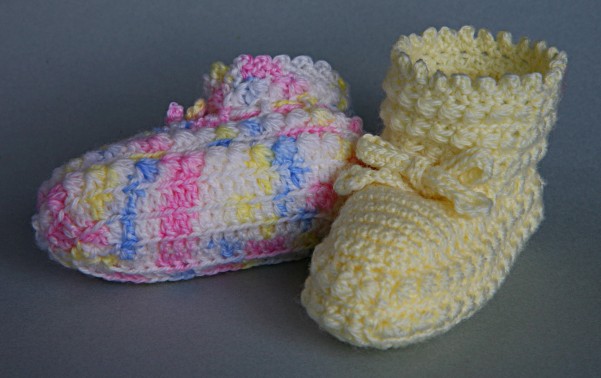 Create a more modern and bold look with bright colors arranged in rainbow hues!